Welcome to GreenLeaf Farms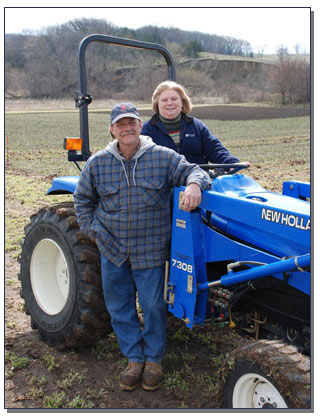 GreenLeaf Farms is a small 10 acre family-owned and -operated certified organic farm near Omaha, Nebraska, that offers certified organic specialty vegetables, herbs, and flowers. In addition to specializing in growing various varieties of great tasting gourmet garlic from around the world and fresh mixed greens, we grow over 100 varieties of fresh organic vegetables, herbs, and fresh flowers. We are dedicated to sustaining our community and providing the freshest and highest quality certified organic produce to our local consumers through our community supported agriculture (CSA) program, local farmers' markets, and local restaurants and markets including Whole Foods Supermarket, Hy-Vee Supermarket, and Spetzia. GreenLeaf Farms has been certified organic through OCIA since its beginnings in 2000 and is one of the first recognized certified organic Farms in our area.
With encouragement from our devoted customers, we are now offering CSA shares. GreenLeaf Farms hosts a 13 week or 26 week CSA program which offers the most diverse selection of all of our 100 varieties of fresh organic vegetables, herbs, and fresh flowers that we grow during the growing season. GreenLeaf Farms' CSA reflects an innovative and resourceful strategy to create a mutual commitment with local consumers while creating a strong local economy, social responsibility, and stewardship of local land. GreenLeaf Farms' CSA members make a commitment to support the farm throughout the season, and assume the costs, risks and bounty of growing food along with the farmer, and in return, we provide members a healthy supply of a wide variety of our highest quality, freshly picked vegetables, herbs, and flowers from our farm, below retail prices.
Organic farming practices sees to the overall health of the soils, environment, and crops. We strive to enrich soil, prevent erosion and protect groundwater. We grow our vegetables, herbs, and fresh flowers without the use of conventional chemical fertilizers, pesticides, hormones, or any other synthetic substance. The produce you receive from GreenLeaf Farms is grown using some of the best organic growing techniques available, including an extensive crop rotation plan that is designed to ensure that nutrients that are used from the soil by the crops is replaced naturally, in order to ensure our produce comes from healthy soil so you get fresh, healthy, and wholesome produce that is richer in vitamins and minerals than most produce that you could obtain anywhere else.
GreenLeaf Farms believes that farming is a cornerstone of community. We are dedicated to educating and empowering the local community on the benefits of organic practices and sustainable farming. We strive to go beyond the growing standards for organic certification to provide the highest quality and freshest products to support our local ecology and community. We are excited to be growing healthy, high-quality, organic food for our local community. Thanks for supporting GreenLeaf Farms and see you this summer!
Members of
Buy Fresh Buy Local
OCIA
Family Farmed.Org
Sustain.Org